Cops Can Be Helpful To Photographers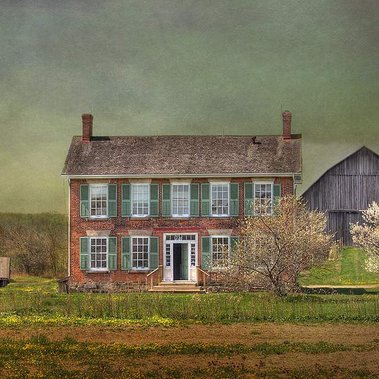 This house, along with the Conover Barn, sits with the Britannia Schoolhouse and Farmhouse on 200 acres in the middle of the City of Mississauga. The property was given to the Board of Education in the 1830's as a farm which would produce enough revenue to keep the school going. It's amazing the school board has been able to hold on to the property at a time when values are skyrocketing. The land and buildings are now used as an Educational Field Centre with a variety of programs to teach children about cultural, agricultural and ecological heritage.

I drive by it all the time and am continually astonished that such a property exists in an urban/suburban area. There are apartment buildings, office towers, stores and masses of houses surrounding this heritage oasis.

So I've tried photographing this many times but each time I would get home, look at the pictures and recognize that something just wasn't right. It finally occurred to me that the house generally appears 'dead'. It's not lived in nor is it often open to the public so the pictures always looked lifeless .....even if the light was good.

On the day I shot this, I was headed down to the lakeshore with my camera and for the first time I saw the door open as well as the truck parked to the side which gave the appearance of something happening. It looked alive and I just had to try again.

Now usually there's no way to stop on Hwy 10 to get a photograph and I knew by the time I found a place to put the car that door would probably be shut. However, on this particular day there was a police car in the right lane, red lights flashing, having stopped someone for some kind of traffic violation.

Instead of passing the officer, I pulled right in behind him, fired off a couple of shots (with the camera that is) and drove off quickly before he decided he was being gifted with a morning ticket bonanza.